We specialize in providing innovative and captivating display solutions that elevate your products and enhance your brand presence. With our expertise in acrylic fabrication, we offer a wide range of customizable display options to meet your specific needs.
Our acrylic displays are designed to showcase your products with style and sophistication. From countertop displays and wall-mounted fixtures to freestanding showcases and custom-built displays, we have the versatility to create unique solutions that align with your branding and aesthetics.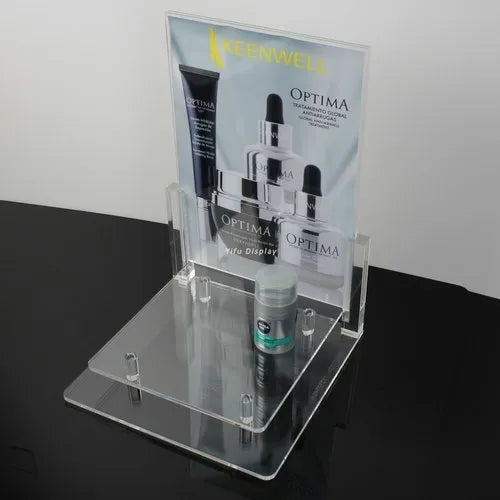 Our team of skilled craftsmen and designers work closely with you to understand your vision and requirements. Using high-quality acrylic materials, we craft displays that are durable, transparent, and visually appealing. Whether you need a simple product holder or a complex multi-tiered display, we can bring your ideas to life with precision and attention to detail.
We understand the importance of creating displays that attract attention and engage customers. With our acrylic display solutions, you can effectively showcase your products, highlight key features, and create immersive experiences. From retail stores and trade shows to museums and exhibitions, our displays are designed to make a lasting impact.
In addition to design and fabrication, we offer comprehensive services including assembly, packaging, and shipping. Our goal is to provide you with a seamless experience from concept to delivery, ensuring your displays arrive in perfect condition and are ready for immediate use.
Experience the power of captivating displays with our acrylic display solutions. Contact us today to discuss your display requirements and let us create visually stunning displays that enhance your brand image and drive customer engagement.