ACM Sheets
We've got a large range of aluminium composite panels, with plenty of options to choose from.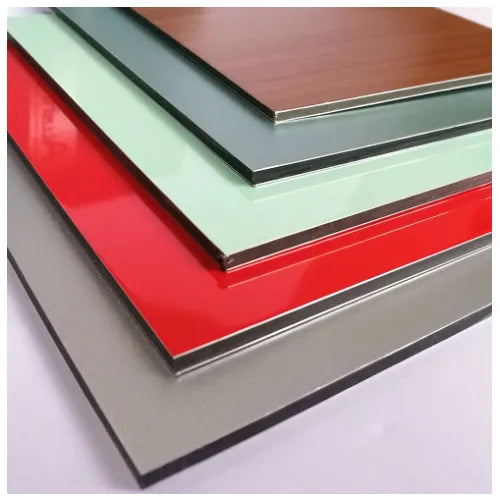 Aluminium Composite Material
Aluminium Composite Material or ACM has a polyethylene core sandwiched between 2 thin layers of aluminium panels, which are then coated with a Polyester paint finish, for good performance.
The result is an economical, lightweight sheet, with excellent flatness, durability & flexural stiffness, available in various finishes.
Features & Benefits

Excellent illumination properties
Fingerprint resistant
Range of vibrant colours available
Easy to fabricate
Lightweight
FEVE paint finish - 10 year exterior warranty
Weather resistant
Won't warp
Colour matching to corporate colours available
Can be fabricated

Applications

Illuminated signage & displays
Point of sale
Feature walls
Retail fit-out
Signage
Corporate signage
Retail fit out
Fascias
Industrial applications
Product Range
Gloss White / Service Coat

Gauge: 3mm, 4mm

Skin Gauge: 0.15/0.15, 0.21/0.21, 0.3/0.3

Matt White / Service Coat

Gauge: 3mm, 4mm

Skin Gauge: 0.21/0.21, 0.3/0.3

Gloss Black / Matt Black

Gauge:  3mm

Skin Gauge: 0.15/0.15

Gloss White / Gloss White

Gauge:  4mm, 6mm

Skin Guage: 0.21/0.21, 0.3/0.3

Gloss Black / Gloss Black

Gauge: 4mm

Skin Guage: 0.21/0.21

Gloss Black / Service Coat

Gauge: 4mm

Skin Gauge: 0.3/0.3

Matt Black / Service Coat

Gauge: 4mm

Skin Gauge: 0.3/0.3

Service Coat / Service Coat

Gauge: 4mm

Skin Gauge: 0.21/0.21

Red/Orange, Blue/Sea Blue, Yellow/Lemon Yellow

Gauge: 4mm

Skin Gauge: 0.3/0.3

Silver / Anthracite

Gauge: 4mm

Skin Gauge: 0.3/0.3

Mirror / Service Coat

Gauge: 3mm

Skin Gauge: 0.3/0.3

Brushed Gold / Brushed Silver

Gauge: 3mm

Skin Gauge: 0.3/0.3

Brushed Silver/Service Coat, Brushed Copper/Service Coat

Gauge: 4mm

Skin Gauge: 0.3/0.3